The Azimuth Project


Western Climate Initiative
Idea
The Western Climate Initiative or WCI is an organization of North American states and provinces who want to fight climate change caused by global warming, independent of their national governments. On 22 August 2007, the WCI set a goal of reducing greenhouse gas emissions by 15% from 2005 levels by 2020. On 23 September 2008, the WCI released an outline of a carbon trading scheme. The first phase of this plan would be implemented on January 1, 2012, followed three years later by a broader cap on carbon emissions in 2015.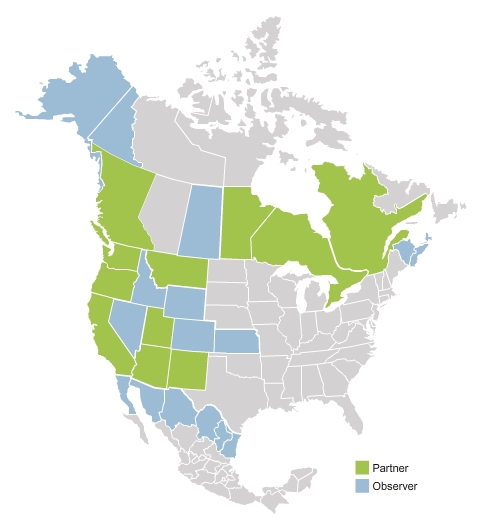 The WCI has two kinds of members: partners, shown in green above, and observers, shown in blue.
The partners are:
the U.S. states of California, Montana, New Mexico, Oregon, Utah, and Washington, and the Canadian provinces of British Columbia, Manitoba, Ontario, and Quebec.
Arizona was a partner until Governor Jan Brewer canceled its partnership agreement on February 5, 2010—so, the map above is slightly out of date.
The observers are:
the U.S. states of Alaska, Colorado, Idaho, Kansas, Nevada, Wyoming, the Canadian province of Saskatchewan, and the Mexican states of Baja California, Chihuahua, Coahuila, Nuevo Leon, Sonora and Tamaulipas.
Saskatchewan objects to WCI plans for a cap and trade system.
References
Some of the information above comes from: