guest post by Alastair Jamieson-Lane
Prelude
The world is complex, and making choices in a complex world is sometimes difficult.
As any leader knows, decisions must often be made with incomplete information. To make matters worse, the experts and scientists who are meant to advise on these important matters are also doing so with incomplete information—usually limited to only one or two specialist fields. When decisions need to be made that are dependent on multiple real-world systems, and your various advisors find it difficult to communicate, this can be problematic!
The generally accepted approach is to listen to whichever advisor tells you the things you want to hear.
When such an approach fails (for whatever mysterious and inexplicable reason) it might be prudent to consider such approaches as Bayesian inference, analysis of competing hypotheses or cross-impact balance analysis.
Because these methods require experts to formalize their opinions in an explicit, discipline neutral manner, we avoid many of the problems mentioned above. Also, if everything goes horribly wrong, you can blame the algorithm, and send the rioting public down to the local university to complain there.
In this blog article I will describe cross-impact balance analysis and a recent extension to this method, explaining its use, as well as some basic mathematical underpinnings. No familiarity with cross-impact balance analysis will be required.
Wait—who is this guy?
Since this is my first time writing a blog post here, I hear introductions are in order.
Hi. I'm Alastair.
I am currently a Master's student at the University of British Columbia, studying mathematics. In particular, I'm aiming to use evolutionary game theory to study academic publishing and hiring practices… and from there hopefully move on to studying governments (we'll see how the PhD goes). I figure that both those systems seem important to solving the problems we've built for ourselves, and both may be under increasing pressure in coming years.
But that's not what I'm here for today! Today I'm here to tell the story of cross-impact balance analysis, a tool I was introduced to at the complex systems summer school in Santa Fe.
The story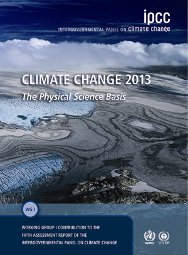 Suppose (for example) that the local oracle has foretold that burning the forests will anger the nature gods…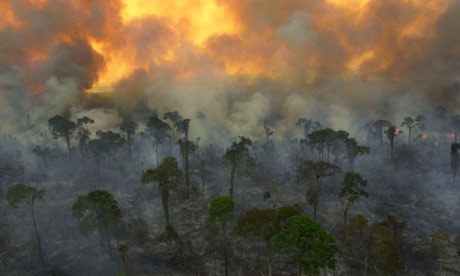 … and that if you do not put restrictions in place, your crops will wither and die.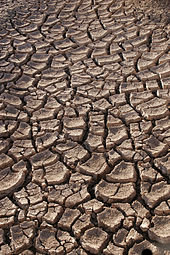 Well, that doesn't sound very good.
The merchant's guild claims that such restrictions will cause all trade to grind to a halt.
Your most trusted generals point out that weakened trade will leave you vulnerable to invasion from all neighboring kingdoms.
The sailors guild adds that the wrath of Poseidon might make nautical trade more difficult.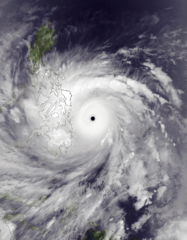 The alchemists propose alternative sources of heat…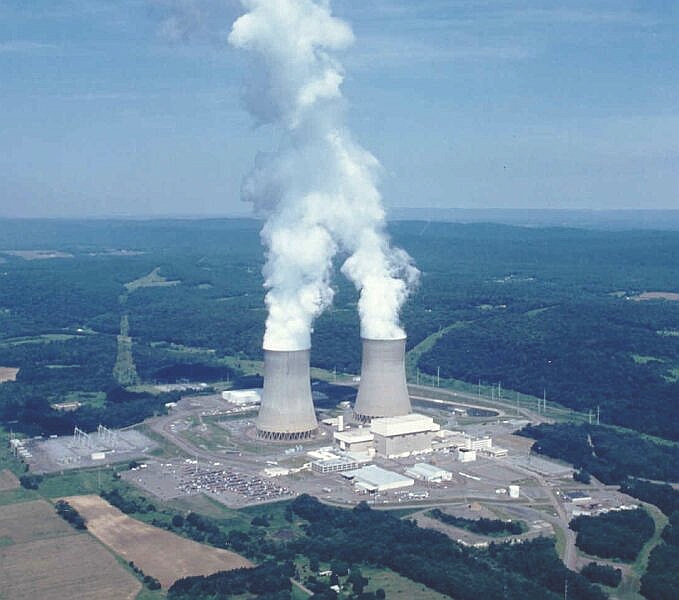 … while the druids propose special crops as a way of resisting the wrath of the gods…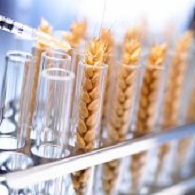 … and so on.
Given this complex web of interaction, it might be a good time to consult the philosophers.
Overview of CIB
This brings us to the question of what CIB (Cross-Impact Balance) analysis is, and how to use it.
At its heart, CIB analysis demands this: first, you must consider what aspects of the world you are interested in studying. This could be environmental or economic status, military expenditure, or the laws governing genetic modification. These we refer to as "descriptors". For each "descriptor" we must create a list of possible "states".
For example, if the descriptor we are interested in were "global temperature change" our states might be "+5 degree", "+4 degrees" and so on down to "-2 degrees".
The states of a descriptor are not meant to be all-encompassing, or offer complete detail, and they need not be numerical. For example, the descriptor "Agricultural policy" might have such states as "Permaculture subsidy", "Genetic engineering", "Intensive farming" or "No policy".
For each of these states, we ask our panel of experts whether such a state would increase or decrease the tendency for some other descriptor to be in a particular state.
For example, we might ask: "On a scale from -3 to 3, how much does the agricultural policy of Intensive farming increase the probability that we will see global temperature increases of +2 degrees?"
By combining the opinions of a variety of experts in each field, and weighting based on certainty and expertise, we are able to construct matrices, much like the one below: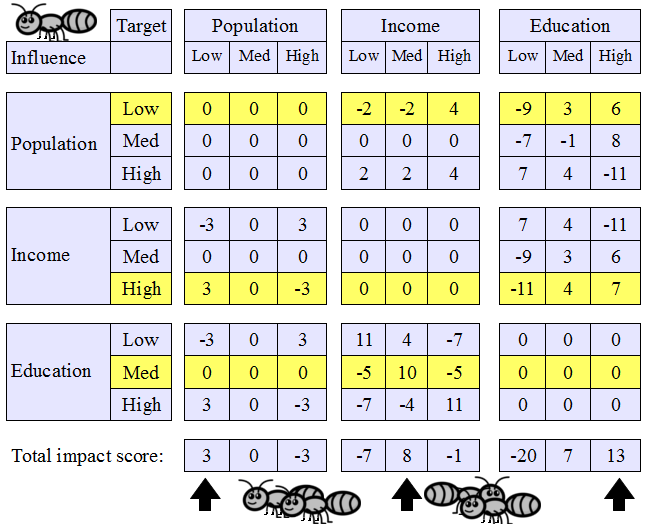 The above matrix is a description of my ant farm. The health of my colony is determined by the population, income, and education levels of my ants. (For a less ant focused version of the above, please refer to Lloyd and Schweizer , "Objectivity and a comparison of methodological scenario approaches for climate change research" Synthese (2013) )
For any possible combination of descriptor states (referred to as a scenario) we can calculate the total impact on all possible descriptors. In the current scenario we have low population, high income and medium education (see highlighted rows).
Because the current scenario has high ant income, this strongly influences us to have low population (+3) and prevents a jump to high population (-3). This combined with the non-influence from education (zeros) leads to low population being the most favoured state for our population descriptor. Thus we expect no change. We say this is "consistent".
Education however sees a different story. Here we have a strong influence towards high education levels (summing the column gives a total of 13). Thus our current state (medium education) is inconsistent, and we would expect the abundance of ant wealth to lead to an improvements in the ant schooling system.
Classical CIB analysis acts as a way to classify which hypothetical situations are consistent, and which are not.
Now, it is all well and good to claim that some scenarios are stable, but the real use of such a tool is in predicting (and influencing) the future.
By applying a deterministic rule that determines how inconsistencies are resolved, we can produce a "succession rule". The most straight-forward example is to replace all descriptor states with whichever state is most favoured by the current scenario. In the example above we would switch to "Low population, medium income, high education". A generation later we would switch back to "Low population, High income, medium education", soon finding ourselves trapped in a loop.
All such rules will always lead to either a loop or a "sink": a self consistent scenario which is succeeded only by itself.
So, how can we use this? How will this help us deal with the wrath of the gods (or ant farms)?
Firstly: we can identify loops and consistent scenarios which we believe are most favourable. It's all well and good imagining some future utopia, but if it is inconsistent with itself, and will immediately lead to a slide into less favourable scenarios then we should not aim for it, we should find that most favourable realistic scenario and aim for that one.
Secondly: We can examine all our consistent scenarios, and determine whose "basin of attraction" we find ourselves in: that is, which scenario are we likely to end up in.
Thirdly: Suppose we could change our influence matrix slightly? How would we change it to favour scenarios we most prefer? If you don't like the rules, change the game—or at the very least find out WHAT we would need to change to have the best effect.
Concerns and caveats
So… what are the problems we might encounter? What are the drawbacks?
Well, first of all, we note that the real world does not tend to reach any form of eternal static scenario or perfect cycle. The fact that our model does might be regarded as reason for suspicion.
Secondly, although the classical method contains succession analysis, this analysis is not necessarily intended as a completely literal "prediction" of events. It gives a rough idea of the basins of attraction of our cycles and consistent scenarios, but is also somewhat arbitrary. What succession rule is most appropriate? Do all descriptors update simultaneously? Or only the one with the most "pressure"? Are our descriptors given in order of malleability, and only the fastest changing descriptor will change?
Thirdly, in collapsing our description of the world down into a finite number of states we are ignoring many tiny details. Most of these details are not important, but in assuming that our succession rules are deterministic, we imply that these details have no impact whatsoever.
If we instead treat succession as a somewhat random process, the first two of these problems can be solved, and the third somewhat reduced.
Stochastic succession
In the classical CIB succession analysis, some rule is selected which deterministically decides which scenario follows from the present. Stochastic succession analysis instead tells us the probability that a given scenario will lead to another.
The simplest example of a stochastic succession rule is to simply select a single descriptor at random each time step, and only consider updates that might happen to that descriptor. This we refer to as dice succession. This (in some ways) represents hidden information: two systems that might look identical on the surface from the point of view of our very blockish CIB analysis might be different enough underneath to lead to different outcomes. If we have a shaky agricultural system, but a large amount of up-and-coming research, then which of these two factors becomes important first is down to the luck of the draw. Rather than attempt to model this fine detail, we instead merely accept it and incorporate this uncertainty into our model.
Even this most simplistic change leads to dramatics effects on our system. Most importantly, almost all cycles vanish from our results, as forks in the road allow us to diverge from the path of the cycle.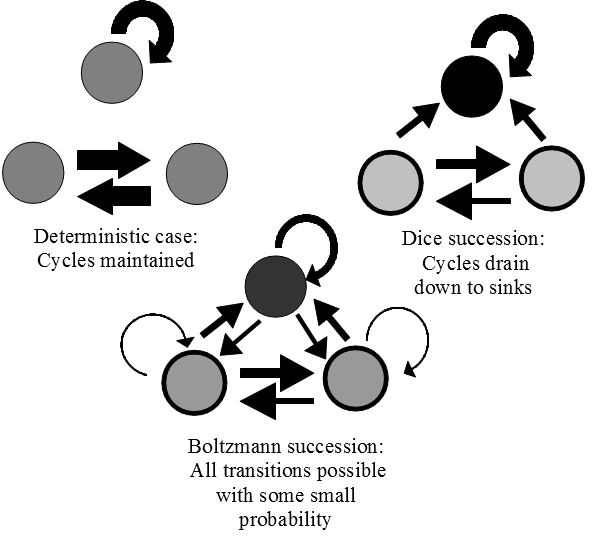 We can take stochastic succession further and consider more exotic rules for our transitions, ones that allow any transition to take place, not merely those that are most favored. For example:
Here is our current scenario, is some possible future scenario, and is the total impact score of from the perspective of . is a simple normalizing constant, and is our system's temperature. High temperature systems are dominated by random noise, while low temperature systems are dominated by the influences described by our experts. Impact score is calculated by summing the impact of each state of our current scenario, on each state of our target scenario. For example, for the above, suppose we what to find when is the given scenario "Low population, High income, medium education" and was the scenario "Medium population, medium income, High education". We would consider all number that were in rows which were states of and in columns that were states of . This would give:
Here each bracket refers to the sum of a particular column. More generically we can write the formula as:
Here refers to an entry in our cross-impact balance matrix, and are both states, and reads as " is a state of ".
We refer to this function for computing transition probabilities as the Boltzmann succession law, due to its similarity to the Boltzmann distribution found in physics. We use it merely as an example, and by no means wish to imply that we expect the transitions for our true system to act in a precisely Boltzmann-like manner. Alternative functions can, and should, be experimented with. The Boltzmann succession law is however an effective example and has a number of nice properties: is always positive, unchanged by adding a constant to every element of the cross-impact balance matrix, contains adjustable parameters, and unbounded above.
The Boltzmann succession rule is what I will refer to as fully stochastic: it allows transitions even against our experts' judgement (with low probability). This is in contrast to dice succession which picks a direction at random, but still contains scenarios from which our system can not escape.
Effects of stochastic succession
'Partially stochastic' processes such as the dice rule have very limited effect on the long term behavior of the model. Aside from removing most cycles, they behave almost exactly like our deterministic succession rules. So, let us instead discuss the more interesting fully stochastic succession rules.
In the fully stochastic system we can ask "after a very long time, what is the probability we will be in scenario ?"
By asking this question we can get some idea of the relative importance of all our future scenarios and states.
For example, if the scenario "high population, low education, low income" has a 40% probability in the long term, while most other scenarios have a probability of 0.2%, we can see that this scenario is crucial to the understanding of our system. Often scenarios already identified by deterministic succession analysis are the ones with the greatest long term probability—but by looking at long term probability we also gain information about the relative importance of each scenario.
In addition, we can encounter scenarios which are themselves inconsistent, but form cycles and/or clusters of interconnected scenarios. We can also notice scenarios that while technically 'consistent' in the deterministic rules are only barely so, and have limited weight due to a limited basin of attraction. We might identify scenarios that seem familiar in the real world, but are apparently highly unlikely in our analysis, indicating either that we should expect change… or perhaps suggesting a missing descriptor or a cross-impact in need of tweaking.
Armed with such a model, we can investigate what we can do to increase the short term and long term likelihood of desirable scenarios, and decrease the likelihood of undesirable scenarios.
Some further reading
As a last note, here are a few freely available resources that may prove useful. For a more formal introduction to CIB, try:
• Wolfgang Weimer-Jehle, Cross-impact balances: a system-theoretical approach to cross-impact analysis, Technological Forecasting & Social Change 73 (2006), 334–361.
• Wolfgang Weimer-Jehle, Properties of cross-impact balance analysis.
You can find free software for doing a classical CIB analysis here:
• ZIRIUS, ScenarioWizard.
ZIRIUS is the Research Center for Interdisciplinary Risk and Innovation Studies of the University of Stuttgart.
Here are some examples of CIB in action:
• Gerhard Fuchs, Ulrich Fahl, Andreas Pyka, Udo Staber, Stefan Voegele and Wolfgang Weimer-Jehle, Generating innovation scenarios using the cross-impact methodology, Department of Economics, University of Bremen, Discussion-Papers Series No. 007-2008.
• Ortwin Renn, Alexander Jager, Jurgen Deuschle and Wolfgang Weimer-Jehle, A normative-functional concept of sustainability and its indicators, International Journal of Global Environmental Issues, 9 (2008), 291–317.
Finally, this page contains a more complete list of articles, both practical and theoretical:
• ZIRIUS, Cross-impact balance analysis: publications.